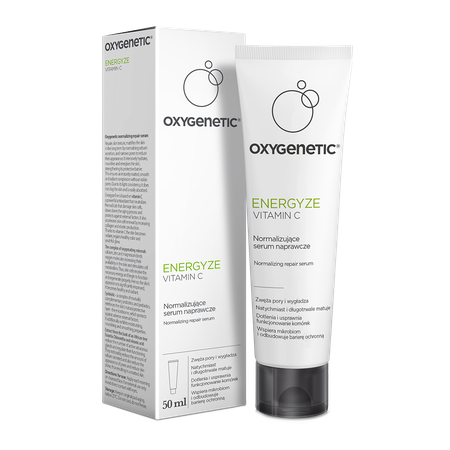 Oxygenetic normalizing repair serum
When skin texture is affected by large pores and nasty excess oily and waxy sebum, this serum regulates sebum and minimises large pores for anti-shine effect.

While it restores balance, it also hydrates, nourishes and energises skin for much stronger protective barrier. This sebum has been crafted to balance oiliness and pores and give skin a flawless and radiant smile. Its lightweight formula get absorbed quickly and easily to let skin breathe.

Skin Balance & Texture + Uniformity & Glow

Breaks down sebum and removes sebum plugs to unclog pores.
Regulates over production of blemish-causing sebum to allow supply of nutrients for active growth of new skin cells.
Oxygenates to let skin cells do what they do best.
Enhances microbiome and restores skin natural protective barrier.
Marketing Authorization Holder
Aflofarm Farmacja Polska Spółka z o.o.
Information for the consumer
Cosmetics are substances intended for external contact with the human body: skin, hair, lips, nails, external genitals, teeth and mucous membranes of the mouth, used solely or principally for their purity, care, protection, perfumery or beautification.
See how we care about quality
All our products are subject to strict safety requirements
We use rigorous quality control standards and procedures to ensure the highest level of safety for all our products.
See how we care about safety