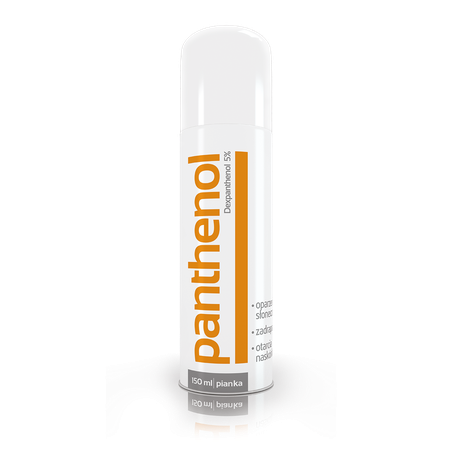 Panthenol, foam
Panthenol is a skincare foam spray containing 5% dexpanthenol (provitamin B₅). Panthenol protects and nourishes dry, irritated and damaged skin, especially after burns. It also soothes and cools the skin, improving elasticity and hydration for faster restoration. Panthenol is recommended to treat:
Additional information
Preparation and use
How to use: spray onto the affected skin several times a day, holding the can 10-20 centimetres away from the application area. Shake well before use. .

How to store
Keep the container below 15-25°C, out of reach of children.

Contraindications
Allergy to any of the ingredients in the product.
Marketing Authorization Holder
Aflofarm Farmacja Polska Spółka z o.o.
Information for the consumer
Cosmetics are substances intended for external contact with the human body: skin, hair, lips, nails, external genitals, teeth and mucous membranes of the mouth, used solely or principally for their purity, care, protection, perfumery or beautification.
See how we care about quality
All our products are subject to strict safety requirements
We use rigorous quality control standards and procedures to ensure the highest level of safety for all our products.
See how we care about safety