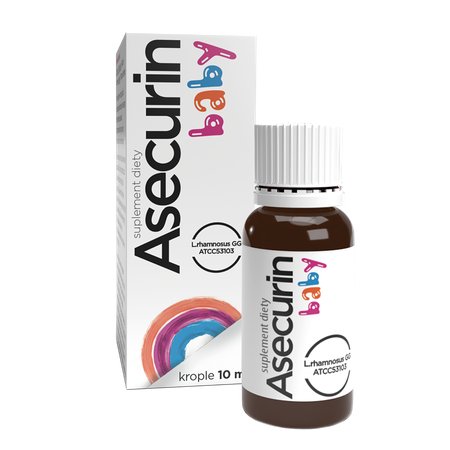 Asecurin baby
Asecurin baby food supplement containing the bacterial strain Lactobacillus rhamnosus GG (ATCC 53103). These bacteria occur naturally in the human digestive tract. The product is recommended for supplementing the intestinal microflora. From the very 1st day of life.
Pharmaceutical form drops. 10 ml
Category Dietary suplement
Marketing Authorisation Holder
Aflofarm Farmacja Polska Spółka z o.o.
Information for the consumer
Food supplements should not be used as substitutes for a varied and well-balanced diet. A varied and balanced diet and healthy lifestyle are essential for good health.
See how we care about quality
All our products are subject to strict safety requirements
We use rigorous quality control standards and procedures to ensure the highest level of safety for all our products.
See how we care about safety