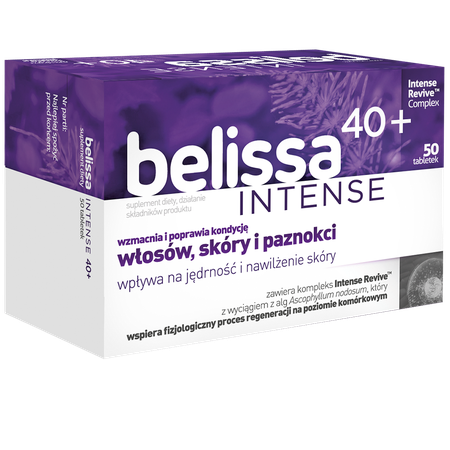 Belissa Intense 40+
Belissa INTENSE 40+ is a food supplement specially designed and formulated to address the needs of mature women. As your body ages, collagen fibres start to deteriorate, leading to the appearance of wrinkles. Belissa Intense 40+ enriches your daily diet with collagen, coenzyme Q10, L cysteine and L-methionine. It is also fortified with Intense Revive complex containing extracts from Ascophyllum Nodosum algae which help your skin maintain a healthy balance, improve firmness and hydration and support physiological regeneration processes already at the cellular level.
Category Dietary suplement
Composition
common horsetail extract, Intense Revive complex, coenzyme Q10, hydrolyzed collagen, L methionine, L-cysteine, zinc, vitamin C, vitamin E, thiamine, riboflavin, vitamin B6, vitamin B 12, niacin, biotin, pantothenic acid, folic acid
Marketing Authorisation Holder
Aflofarm Farmacja Polska Spółka z o.o.
Information for the consumer
Food supplements should not be used as substitutes for a varied and well-balanced diet. A varied and balanced diet and healthy lifestyle are essential for good health.
See how we care about quality
All our products are subject to strict safety requirements
We use rigorous quality control standards and procedures to ensure the highest level of safety for all our products.
See how we care about safety