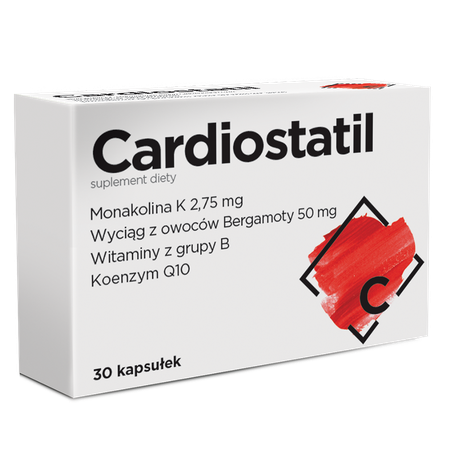 Cardiostatil
The unique combination of Monacolin K and Bergamot extract, B Vitamins and Coenzyme Q10, all together in one food supplement.
Pharmaceutical form Capsules. 30 pcs
Category Dietary suplement
Additional information
Formulated with Monacolin K derived from red yeast rice, Bergamot fruit extract (Citrus Bergamia) standardised to extract polyphenols, this food supplement is rich in Vitamin B 6 and Vitamin B12 for healthy metabolic processes converting nutrients into energy and homocysteine metabolism.
Vitamin B6 is essential to benefit:
- cysteine biosynthesis pathway
- normal body metabolic processes
- while suffering from nerve weakness
- homocysteine metabolism
- protein and glycogen synthesis
- mental health and brain functions
- red blood cell formation
- immune body function
- when weary or fatigued
- endocrine (hormonal) system

Vitamin B12 is essential to
- boost energy
- nourish weak nervous system
- benefit homocysteine metabolism
- benefit brain functions
- help with the formation of healthy blood red cells
- support healthy immune system
- lessen weariness or fatigue
- cellular metabolism
Composition
Oryza sativa red rice extract fermented with Monascus purpureus yeast (55 mg) of which monacolin K (2.75 mg). Citrus Bergamia Bergamot fruit extract (50 mg) of which polyphenol (10 mg); Vitamin B6 (2.8 mg); Vitamin B12 (5 μg); coenzyme Q10 (30 mg)
Marketing Authorisation Holder
Aflofarm Farmacja Polska Spółka z o.o.
Information for the consumer
Food supplements should not be used as substitutes for a varied and well-balanced diet. A varied and balanced diet and healthy lifestyle are essential for good health.
See how we care about quality
All our products are subject to strict safety requirements
We use rigorous quality control standards and procedures to ensure the highest level of safety for all our products.
See how we care about safety