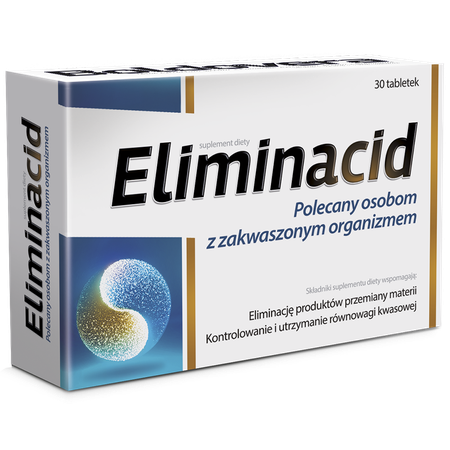 Eliminacid
Recommended for people with too much acid in the body. Eliminacid contains ingredients which help your body:
• eliminate metabolic products*,
• control and maintain healthy acid-alkaline balance**.

* Dendalion root extract (taraxacum officinale) supports the natural detoxification of the body.
** Cabbage rose flower extract (rosa centifolia) supports physiological elimination processes and helps maintain normal acid-alkaline balance.
Category Dietary suplement
Composition
1 tablet of Eliminacid contains: rosa centifolia flower extract 100 mg, green tea extract 100 mg, taraxacum officinale root extract 70 mg, vitamin E 6.6 mg equivalent of alpha-tocopherol, thiamine 1.1 mg, riboflavin 1.3 mg, vitamin B6 1.4 mg, vitamin B12 0.8 µg, vitamin C 39.6 mg, biotin 100 µg, niacin 11.8 mg equivalent of niacin, pantothenic acid 6.8 mg, folic acid 264 μg, iron 9.9 mg, zinc 10.6 mg, iodine 105.8 μg
Marketing Authorisation Holder
Aflofarm Farmacja Polska Spółka z o.o.
Information for the consumer
Food supplements should not be used as substitutes for a varied and well-balanced diet. A varied and balanced diet and healthy lifestyle are essential for good health.
See how we care about quality
All our products are subject to strict safety requirements
We use rigorous quality control standards and procedures to ensure the highest level of safety for all our products.
See how we care about safety