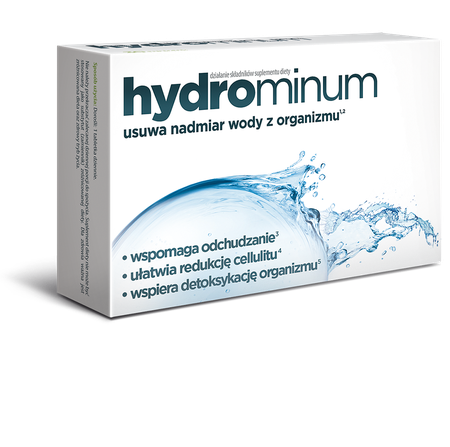 Hydrominum
The feeling of swollen waist, legs or hands is often associated with excessive accumulation of water in the body which may depend on many different factors. These symptoms can be caused by hormonal imbalance during the menstrual period, use of oral contraceptives, bad diet or lack of proper physical exercise.

Hydrominum contains ingredients which:
- eliminate excess water from the body along with various toxic contaminants
- support detoxification
- help you lose weight
- support cellulite reduction.

With their natural ingredients, Hydrominum tablets remove excess water from the body and support detoxification processes. They also help you lose and control your weight and get rid of cellulite.
Category Dietary suplement
Composition
Taraxacum Officinale extract, nettle extract, green tea extract, grape seed extract, Opuntia Ficus-Indica extract
Marketing Authorisation Holder
Aflofarm Farmacja Polska Spółka z o.o.
Information for the consumer
Food supplements should not be used as substitutes for a varied and well-balanced diet. A varied and balanced diet and healthy lifestyle are essential for good health.
See how we care about quality
All our products are subject to strict safety requirements
We use rigorous quality control standards and procedures to ensure the highest level of safety for all our products.
See how we care about safety