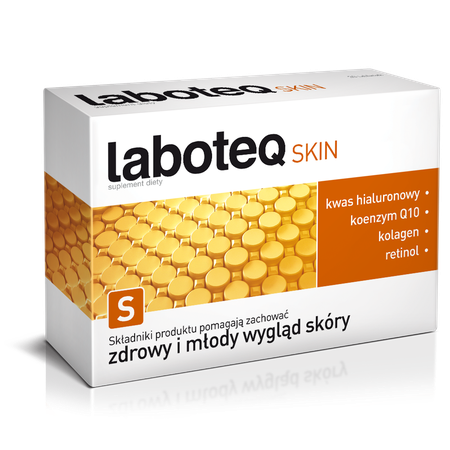 Laboteq Skin
Laboteq Skin is dedicated to women looking for an effective solution for healthy skin. The ingredients of Laboteq SKIN: biotin, niacin, beta-carotene and riboflavin work from within the skin, supporting young and healthy look. Laboteq SKIN contains a Continuous Wrinkles Reduction formula (CWR) which is a unique combination of coenzyme Q10, hydrolyzed collagen, hyaluronic acid, beta carotene, vitamin A precursor (retinol) and vitamins. Laboteq Skin tablets supply your skin with high-dose collagen and ingredients which support natural collagen production in the body*. This way, the ingredients of Laboteq Skin help your skin maintain young and healthy look **. *The effect is produced by vitamin C which supports collagen production to ensure healthy skin.** The effect is produced by biotin, niacin, retinol and riboflavin.
Pharmaceutical form tablets. 30 tab.
Category Dietary suplement
Composition
Coenzyme Q10, collagen, hyaluronic acid, retinol (whose precursor is beta-carotene), niacin, biotin, riboflavin, vitamin C, vitamin E, Vitamin B6, Vitamin B12, folic acid, pantothenic acid, thiamine
Marketing Authorisation Holder
Aflofarm Farmacja Polska Spółka z o.o.
Information for the consumer
Food supplements should not be used as substitutes for a varied and well-balanced diet. A varied and balanced diet and healthy lifestyle are essential for good health.
See how we care about quality
All our products are subject to strict safety requirements
We use rigorous quality control standards and procedures to ensure the highest level of safety for all our products.
See how we care about safety