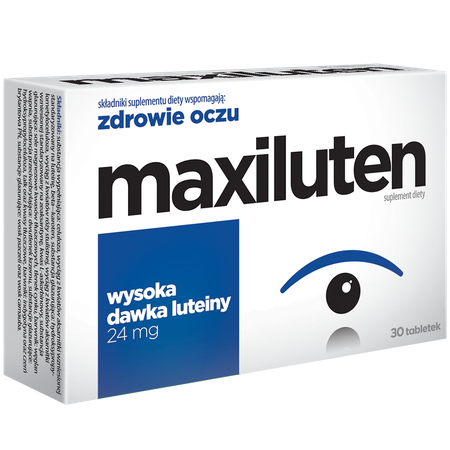 Maxiluten
Maxiluten food supplement contains a high dose of lutein (24 mg), as well as zeaxanthin and vitamins and minerals (beta-carotene as the source of vitamin A, vitamin C and zinc) which have a beneficial effect on your sight. Maxiluten is intended for those who feel that their sight becomes worse with age and those exposed to factors leading to impaired vision.

The ingredients of Maxiluten food supplement:
help maintain healthy eyes;
help maintain normal visual acuity;
help protect the retina and the lens of the eye.
Category Dietary suplement
Composition
Mexican marigold flower extract including lutein, Provence rose flower extract, Mexican marigold flower extract including zeaxanthin, beta-carotene, zinc, vitamin C
Marketing Authorisation Holder
Aflofarm Farmacja Polska Spółka z o.o.
Information for the consumer
Food supplements should not be used as substitutes for a varied and well-balanced diet. A varied and balanced diet and healthy lifestyle are essential for good health.
See how we care about quality
All our products are subject to strict safety requirements
We use rigorous quality control standards and procedures to ensure the highest level of safety for all our products.
See how we care about safety