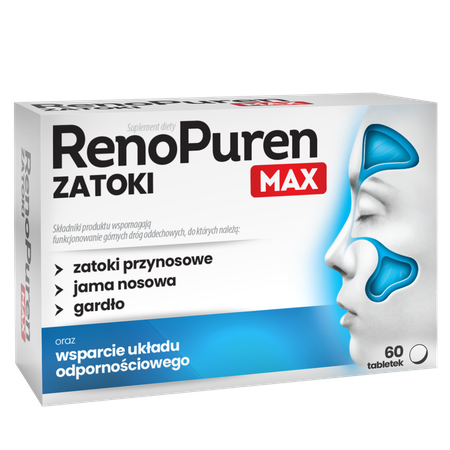 RenoPuren Zatoki Max
RenoPuren Sinuses Max is a food supplement specially designed and formulated to support the normal function of upper airways, including paranasal sinuses, nasal cavity and throat. RenoPuren Sinuses Max contains a combination of 8 plant extracts.

Thyme extract supports the normal function of the upper airways.
Extracts from verbena, mullein and linden flowers contribute to the normal function of the airways and support the immune system.
Andrographis paniculata leaf extract supports healthy airway functions while elderberry flower extract supports the immune system.
Pharmaceutical form tablets. 60 tab.
Category Dietary suplement
Composition
Garlic extract, verbena extract, gentian root extract, thyme extract, mullein flower extract, elderflower flower extract, Andrographis Paniculata </ i> leaf extract, linden flower extract
Marketing Authorisation Holder
Aflofarm Farmacja Polska Spółka z o.o.
Information for the consumer
Food supplements should not be used as substitutes for a varied and well-balanced diet. A varied and balanced diet and healthy lifestyle are essential for good health.
See how we care about quality
All our products are subject to strict safety requirements
We use rigorous quality control standards and procedures to ensure the highest level of safety for all our products.
See how we care about safety