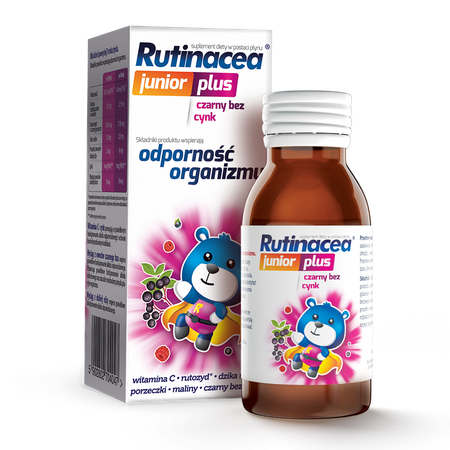 Rutinacea Junior Plus
Rutinacea Junior Plus food supplement for children already over the 3rd year of age. The product contains natural fruit juices - blackcurrant concentrate juice, raspberry juice and briar rose extract, which naturally supports the immune system and contributes to increased immunity. Furthermore, the new edition has been enriched with additional ingredients - elderberry fruit extract and zinc, which support the proper functioning of the immune system, with elderberry additionally supporting the respiratory system.
Category Dietary suplement
Composition
sugar, water, blackcurrant concentrate, raspberry juice, L-ascorbic acid, zinc gluconate, preservative: sodium benzoate, elderberry extract, powdered briar rose, aroma, water-soluble rutin (sodium sulphate rutin salt), acidity regulator: citric acid.
Marketing Authorisation Holder
Aflofarm Farmacja Polska Spółka z o.o.
Information for the consumer
Food supplements should not be used as substitutes for a varied and well-balanced diet. A varied and balanced diet and healthy lifestyle are essential for good health.
See how we care about quality
All our products are subject to strict safety requirements
We use rigorous quality control standards and procedures to ensure the highest level of safety for all our products.
See how we care about safety