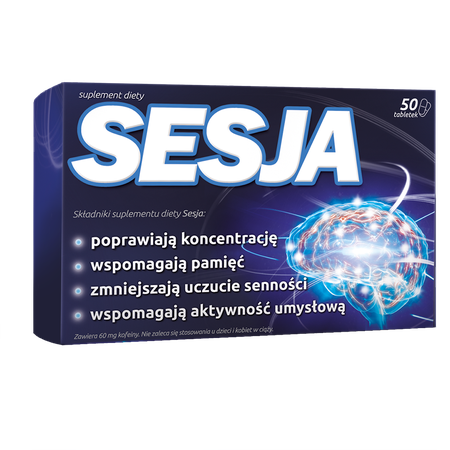 Sesja
The ingredients of Sesja food supplement help maintain optimal mental activity and cognitive capabilities (ginseng root extract). Caffeine helps improve concentration and reduces the feeling of drowsiness. Brahmi leaf extract supports memory and concentration. Gingko biloba extract helps maintain a positive mental form as well as proper functioning of the organs of hearing and vision.

Sesja food supplement is especially recommended for people during periods of increased mental effort and exposed to loss of concentration.
Pharmaceutical form tablets. 50 tab.
Pharmaceutical form tablets. 30 tab.
Category Dietary suplement
Additional information
Dosage: Adults and school children over 12 years of age: 1 tablet two times a day.
Composition
1 tablet contains: Gingko biloba extract 45 mg, caffeine 30 mg, ginseng root (Panax ginseng) extract 25 mg, Brahmi (Bacopa monnieri L.) leaf extract 18 mg.
Marketing Authorisation Holder
Aflofarm Farmacja Polska Spółka z o.o.
Information for the consumer
Food supplements should not be used as substitutes for a varied and well-balanced diet. A varied and balanced diet and healthy lifestyle are essential for good health.
See how we care about quality
All our products are subject to strict safety requirements
We use rigorous quality control standards and procedures to ensure the highest level of safety for all our products.
See how we care about safety