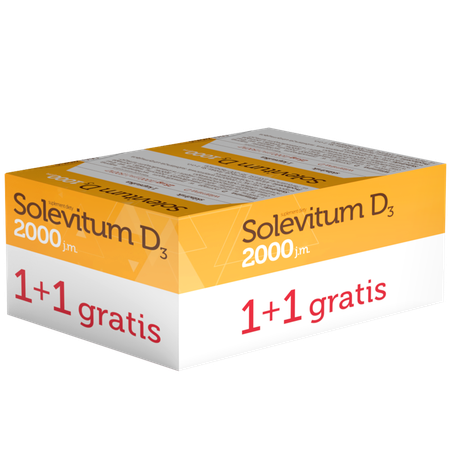 Solevitum D3 2000 IU 1 + 1 free
This Vitamin D food supplement for improved absorption of calcium and phosphorus by the body helps retain calcium in the blood for healthy bones and teeth. Also, it benefits muscle and immune functions.
Pharmaceutical form Capsules. 150 pcs
Category Dietary suplement
Marketing Authorisation Holder
Aflofarm Farmacja Polska Spółka z o.o.
Information for the consumer
Food supplements should not be used as substitutes for a varied and well-balanced diet. A varied and balanced diet and healthy lifestyle are essential for good health.
See how we care about quality
All our products are subject to strict safety requirements
We use rigorous quality control standards and procedures to ensure the highest level of safety for all our products.
See how we care about safety