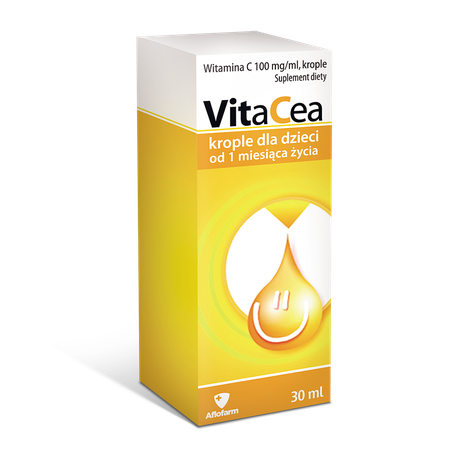 VitaCea
VitaCea is recommended:
- in periods of increased need for vitamin C
- to enrich a diet low in vegetables and citrus fruit.
Vitamin C has comprehensive action. It supports the immune and nervous system, helps maintain normal psychological functions, enhances the absorption of iron and helps protect cells from oxidative damage. It is also essential for the normal biosynthesis of collagen to ensure healthy blood vessels, bones, cartilage, gums, skin and teeth.
Pharmaceutical form drops. 30 ml
Category Dietary suplement
Additional information
How to use:
Take VitaCea by mouth with food or just after a meal.
Infants over 1 month old and children up to 3 years of age: 5 drops daily (add the drops to a bottle of formula or a tablespoon of milk or juice).
Children over 3 years of age: 10 drops daily.
Schoolchildren and adolescents: 15 drops daily.
Dilute the drops before use.
Do not exceed the recommended daily dose.
Food supplements should not be used as a substitute for a varied diet.
A varied and balanced diet and healthy lifestyle are essential for good health.
Do not use VitaCea:
If you are allergic to any of the ingredients. Take special care in patient with renal failure, iron storage disorders, glucose-6-phosphate dehydrogenase deficiency.
Special warnings and precautions:
Stop taking vitamin C (ascorbic acid) 2-3 days before taking blood and urine samples for laboratory testing.
How to store:
Store below 25°C. Do not freeze or refrigerate. Protect from light. Keep out of the reach of children.
Do not use after the expiry date stated on the pack.
Composition
Thickener: glycerol, Vitamin C (L-ascorbic acid), water.
Marketing Authorisation Holder
Aflofarm Farmacja Polska Spółka z o.o.
Information for the consumer
Food supplements should not be used as substitutes for a varied and well-balanced diet. A varied and balanced diet and healthy lifestyle are essential for good health.
See how we care about quality
All our products are subject to strict safety requirements
We use rigorous quality control standards and procedures to ensure the highest level of safety for all our products.
See how we care about safety