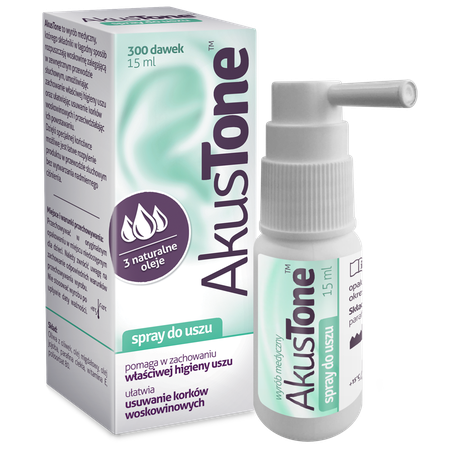 AkusTone
AkusTone is intended for ear hygiene. It helps remove and prevent earwax plugs.

AkusTone contains three natural oils:

AkusTone dissolves excess earwax, prevents earwax plugs, helps maintain normal ear hygiene in case of overproduction of earwax in children or persons using hearing aids or earphones. It also prevents water from getting into the ear duct while bathing or doing water sports, in persons prone to recurring outer ear infections.
Additional information
In children and infants over 3 months of age, the product should be applied carefully by an adult. In infants and babies under one year of age, consult a doctor before using the product. Read the instructions for use attached to the packaging before using the product.
Composition
olive oil, almond oil, jojoba oil, liquid paraffin, vitamin E, polysorbate 80
Manufacturer
Aflofarm Farmacja Polska Spółka z o.o.
Information for the user
A medical device is intended for treatment of medical conditions or relief of their symptoms where the essential intended effect is achieved by means other than the use of pharmacological, immunological or metabolic agents.
See how we care about quality
All our products are subject to strict safety requirements
We use rigorous quality control standards and procedures to ensure the highest level of safety for all our products.
See how we care about safety