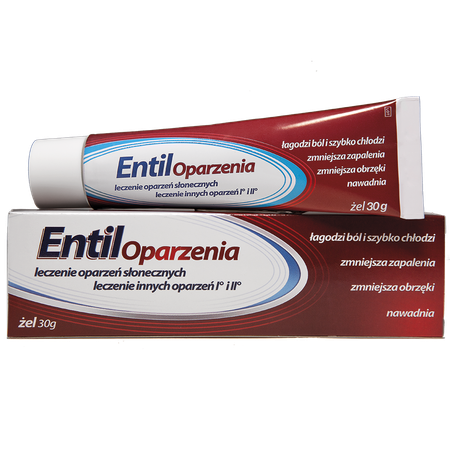 Entil burns
Entil burns is a burn-care product with an innovative OSMO4 formula.
Applied to the burn, Entil:

relieves pain,
instantly cools the affected area,
reduces swelling and hydrates skin.
Entil burns helps avoid infection and reduce skin inflammation. It has soft texture and is free of alcohol, preservatives and fragrances which makes it well-tolerated by the skin. Entil burns is safe for use by adults and children.
Additional information
How to use:
For use on the skin. Apply the gel throughout the affected area of skin and massage it in gently. Allow to absorb. Use 2-3 times daily. For external use only.

Special warnings and precautions:
When applying the gel, your skin may feel a little tight. Avoid contact with eyes. Do not use on open wounds. Do not use with other similar products.
Composition
Octylene glycol, polyethylene glycol, glycerol, carbomer, sodium hydroxide, purified water.
Manufacturer
Aflofarm Farmacja Polska Spółka z o.o.
Information for the user
A medical device is intended for treatment of medical conditions or relief of their symptoms where the essential intended effect is achieved by means other than the use of pharmacological, immunological or metabolic agents.
See how we care about quality
All our products are subject to strict safety requirements
We use rigorous quality control standards and procedures to ensure the highest level of safety for all our products.
See how we care about safety