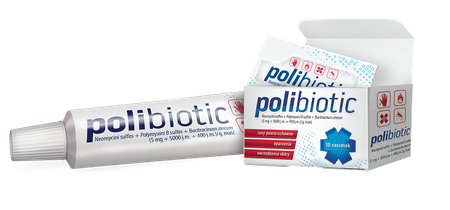 Polibiotic
Polibiotic is a medicine indicated for treatment of minor superficial wounds, scratches, burns, ulcerations and bites. It is available as an ointment for local application to the skin.
Polibiotic contains three active substances (antibiotics): neomycin, polymyxin B and bacitracin with complementary mechanisms of action against various bacteria – the main cause of most skin infections.
Pharmaceutical form sachets. 10 pcs.Z
Additional information
How to use:

Adults: clean the affected area and apply a thin layer of ointment 2 – 5 times a day. The application site can be covered with a gauze dressing or left uncovered. Polibiotic should not be used for more than 7. Children: do not use in children up to 12 years of age.

Treatment should be stopped in case of a severe allergic reaction. If the treatment is discontinued, the product should not be used again for 3 months.
Active substance
1 g of ointment contains: 5 mg neomycin sulphate (Neomycini sulfas), 5000 IU, polymyxin B sulphate (Polymyxini B sulfas) and 400 IU zinc bacitracin (Bacitracinum zincum). The other ingredient (excipient) is white Vaseline.
Indications
Polibiotic is used to treat minor injuries (abrasions, scratches, bites), burns and skin ulcers.
Contraindications
Do not use Polibiotic in patients with hypersensitivity (allergy) to any of the active substances or white Vaseline (excipient). Do not use in patients with hearing disorders. Do not apply to the eyes and mucous membranes, to deep stab wounds, severe burns, large areas of the affected skin or oozing wounds for risk of absorption of the active substances into the systemic circulation and the related systemic side effects (ototoxicity, neurotoxicity)

Do not use in children up to 12 years of age.
Marketing Authorisation Holder
Aflofarm Farmacja Polska Spółka z o.o.
Information for the patient
Read the package leaflet for indications, contraindications, side effects, dosage as well as information on the use of this product, or consult your doctor or pharmacist before use. Misusing medicines may be dangerous to your life or health.
See how we care about quality
All our products are subject to strict safety requirements
We use rigorous quality control standards and procedures to ensure the highest level of safety for all our products.
See how we care about safety