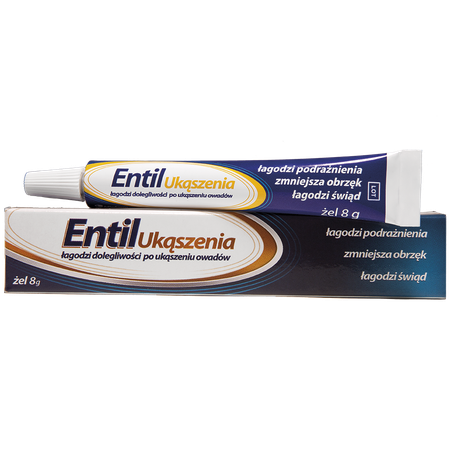 Entil insect bites
Entil insect bites is an insect-bite relief product with an innovative formula based on physical osmotic activity.
Applied to the affected skin, Entil insect bites

reduces swelling,
relieves irritation and itching.
With its osmotic properties, Entil insect bites removes toxins injected into a bite wound along with substances released in response to the bite which are responsible for causing redness, itching and swelling. Entil insect bites is a safe product available with no age restrictions.
Additional information
How to use:
Apply Entil insect bites to the skin and massage in gently. Allow to absorb. Use 2-3 times daily. For external use only.

Special warnings and precautions:
When applying the gel, your skin may feel a little tight. Avoid contact with eyes. Do not use on open wounds. Do not use with other similar products.
Composition
Octylene glycol, polyethylene glycol, glycerol, carbomer, sodium hydroxide, purified water.
Manufacturer
Aflofarm Farmacja Polska Spółka z o.o.
Information for the user
A medical device is intended for treatment of medical conditions or relief of their symptoms where the essential intended effect is achieved by means other than the use of pharmacological, immunological or metabolic agents.
See how we care about quality
All our products are subject to strict safety requirements
We use rigorous quality control standards and procedures to ensure the highest level of safety for all our products.
See how we care about safety