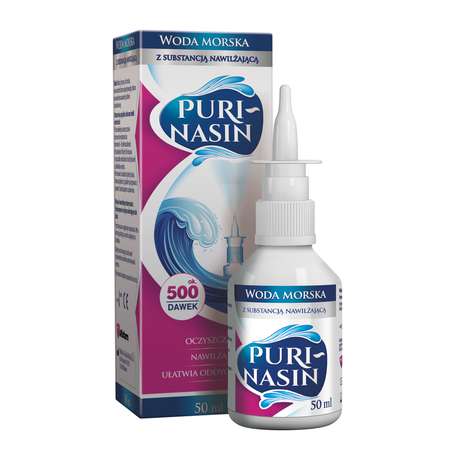 Puri-nasin
Puri-nasin is a nose decongestant available as isotonic solution to flush out contaminants, bacteria, viruses and allergens and dissolve mucus fluid obstructing the nasal passages. In addition to seawater, Puri-nasin contains moisturizing glycerine which additionally contributes to maintaining healthy nasal mucosa. Puri-nasin makes breathing easier in nasal congestion caused by allergy or infections such as rhinitis, common cold and sinusitis. The product also comes in handy for daily nasal hygiene both in adults, children and babies.
Additional information
A single pack contains about 500 doses (puffs of spray). Puri-nasin can be used in babies over 6 months of age.

Special warnings and precautions:The product contains – benzalkonium chloride which is a preservative added to prevent contamination of the solution. Do not use Puri-nasin if you are allergic to any ingredient in the product. Do not apply to damaged nasal mucosa lining. Follow the instructions on the pack.
Composition
Aqua, Glycerin, Maris Sal, Natrium dihydrophosphoricum, Dinatrii phosphas dodecahydricus, Benzalkonium Chloride.
Manufacturer
Aflofarm Farmacja Polska Spółka z o.o.
Information for the user
A medical device is intended for treatment of medical conditions or relief of their symptoms where the essential intended effect is achieved by means other than the use of pharmacological, immunological or metabolic agents.
See how we care about quality
All our products are subject to strict safety requirements
We use rigorous quality control standards and procedures to ensure the highest level of safety for all our products.
See how we care about safety