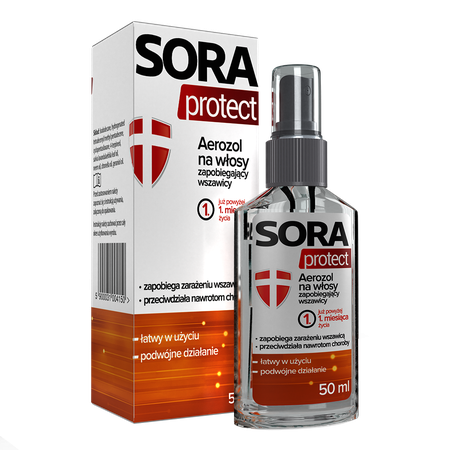 SORA protect
Hair spray for preventing head lice.

SORA PROTECT is recommended to avoid head lice infection and to prevent relapse:

when there is head lice infestation around the child in the school or kindergarten,
when there is a person infected with head lice among the household members,
in large groups of people, when there are concerns towards proper hygiene and sanitary standards, e.g. in shelters, during group trips (summer camps, holiday camps).
SORA PROTECT is a medical device intended for daily use to prevent head lice infection and to prevent relapse.
Due to its coating properties, SORA PROTECT prevents scalp colonization by lice and the occlusive layer formed on the hair prevents eggs/nits from attaching to them. In addition, the intensely fragrant ingredients contained in the product mask the natural smell of human skin, making it difficult for the parasites to orient themselves and thus discourage colonization of the scalp.
For children over 1 month old.
Additional information
Before use, read the instructions for use enclosed with the packaging. The manual should be kept for throughout the product's entire lifetime.

Note: During use, avoid contact of the product with an open flame or other sources of heat.

Place and storage conditions: Keep out of the sight and reach of children. Store in the original, tightly closed container. Attention should be paid to the proper storage conditions of the product. Do not use the product after the expiration date.
Composition
Skład: lsododecane, hydrogenated tetradecenyl/methyl pentadecene, cyclopentasiloxane, 4-terpineol, salvia
lavandulaefolia leaf oil, neem oil, citronella oil, geraniol oil.
Manufacturer
Aflofarm Farmacja Polska Spółka z o.o.
Information for the user
A medical device is intended for treatment of medical conditions or relief of their symptoms where the essential intended effect is achieved by means other than the use of pharmacological, immunological or metabolic agents.
See how we care about quality
All our products are subject to strict safety requirements
We use rigorous quality control standards and procedures to ensure the highest level of safety for all our products.
See how we care about safety