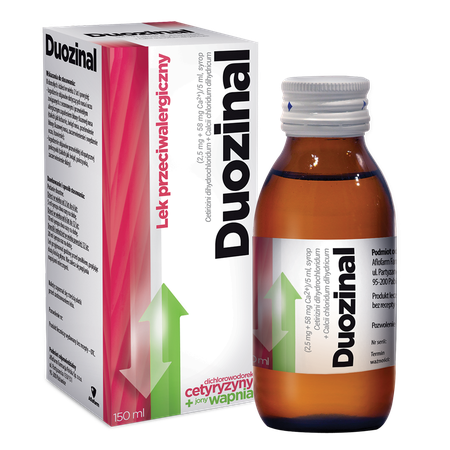 Duozinal
Duozinal is a medicine with an anti-allergic effect in the form of syrup. It contains two active substances (2.5 mg of cetirizine dihydrochloride and 58 mg of calcium ions as calcium chloride dihydrate) in 5 ml of syrup.
Additional information
Care should be taken when prescribing Duozinal to pregnant or breastfeeding women. Objective studies with the use of cetirizine at the recommended dose of 10 mg have not shown any clinically significant effect of cetirizine on the ability to drive motor vehicles, somnolence and psychomotor abilities. The effect of calcium chloride on the ability to drive motor vehicles, somnolence, and psychomotor abilities is unlikely.
Active substance
10 ml of syrup contains: 5 mg of cetirizine dihydrochloride (cetirizini dihydrochloridum), 116 mg of calcium ions as calcium chloride dihydrate (calcii chloridum dihydricum). Excipients: sucrose, potassium sorbate, vanillin, sucralose, purified water.
Indications
In adults and in children 2 years old and above: - reducing symptoms in the nose and eyes due to seasonal and chronic allergic rhinitis (sneezing, itchy nose, nasal congestion, reddened and itchy eyes, watery eyes, etc), - reducing symptoms in chronic idiopathic urticaria (itching, hives, reddened skin, etc).
Contraindications
Contraindications: - hypersensitivity to cetirizine, calcium chloride or any of the excipients, hydroxyzine or piperazine derivatives; - elevated blood calcium level (hypercalcemia, for example in patients with hypervitaminosis D, hyperparathyroidism, sarcoidosis, neoplastic diseases with bone metastasis, e.g. plasmacytoma); - hypercalciuria; - galactosaemia; - kidney stone disease; - moderate or severe renal impairment.
Marketing Authorisation Holder
Aflofarm Farmacja Polska Spółka z o.o.
Information for the patient
Read the package leaflet for indications, contraindications, side effects, dosage as well as information on the use of this product, or consult your doctor or pharmacist before use. Misusing medicines may be dangerous to your life or health.
See how we care about quality
All our products are subject to strict safety requirements
We use rigorous quality control standards and procedures to ensure the highest level of safety for all our products.
See how we care about safety