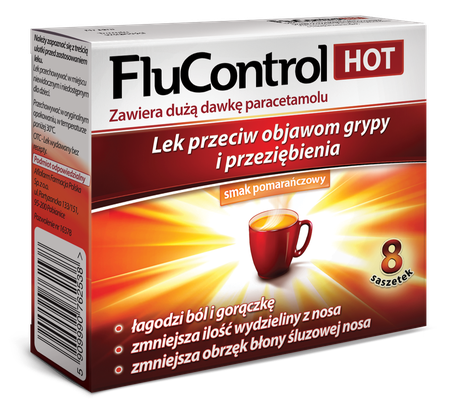 FluControl HOT
FluControl HOT is a comprehensive medicine containing the highest dose* of antipyretic and analgesic substances.

A single packet contains just the right amount of active substances to help alleviate the common symptoms of flu and cold.

The product components:
reduce the pain and fever
reduce the nasal discharge
reduce the nasal oedema
* In accordance with the Drug Product Register (as at October 2017).
Pharmaceutical form powder for oral solution. 5,5 g
Additional information
FluControl Hot has a moderate effect on the ability to drive vehicles and operate machinery.
Active substance
1 packet of FluControl HOT contains:

1000 mg of paracetamol (Paracetamolum)
10 mg of phenylephrine hydrochloride (Phenylephrini hydrochloridum)
4 mg of chlorphenamine maleate (Chlorphenamini maleas)
Indications
Symptomatic treatment of cold and flu with accompanying fever, mild or moderate pain, and nasal oedema with discharge.
Contraindications
Hypersensitivity to the active substances or any of the excipients.

liver diseases (with or without liver failure) or viral hepatitis (increased risk of hepatotoxicity)
hypertension;
hyperthyroidism;
severe cardiovascular diseases (such as coronary heart disease, angina pectoris);
tachycardia;
patients treated with monoamine oxidase inhibitors (MAOIs);
glaucoma;
arrhythmia;
severe renal failure.
Marketing Authorisation Holder
Aflofarm Farmacja Polska Spółka z o.o.
Information for the patient
Read the package leaflet for indications, contraindications, side effects, dosage as well as information on the use of this product, or consult your doctor or pharmacist before use. Misusing medicines may be dangerous to your life or health.
See how we care about quality
All our products are subject to strict safety requirements
We use rigorous quality control standards and procedures to ensure the highest level of safety for all our products.
See how we care about safety