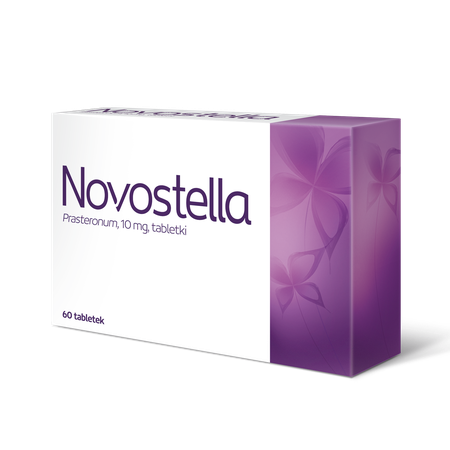 Novostella
Novostella replenishes DHEA deficiencies in the body, which can delay the aging process. Hence, it has a positive effect on skin, weight, mental and physical fitness.

Novostella contains the active substance prasterone (dehydroepiandrosterone, DHEA), which belongs to a group of steroid hormones. Its amount in the body decreases during aging. The highest concentration of prasterone in women occurs between 20 and 30 years of age, and after 30 years it decreases gradually.
Pharmaceutical form tablets. 60 tab.
Additional information
Always take this medicine exactly as described in the package leaflet or as directed by your doctor or pharmacist. In case of doubt, check consult your doctor or pharmacist.

Recommended dose:
The starting dose is 1 tablet (10 mg) once a day.
The drug should be taken in the morning according to the natural rhythm of DHEA secretion.
The starting dose should be increased gradually (by 1 tablet per day after 2 weeks) until the desired therapeutic effects are achieved. Changing the dose, especially increasing it, always requires consultation with a doctor.
A maximum of 2 tablets (20 mg) per day can be taken. For long-term use of doses greater than 2 tablets (20 mg) in women (only when prescribed by a physician), serum hormone level tests should be performed frequently as ordered by a doctor.

The drug should be used orally.
The medicine should be taken with food so as to facilitate absorption.
The dosage should be adjusted to the serum prasterone concentration and the effectiveness of the therapy. Novostella is intended for long-term use; The effects are visible after a few weeks of use.

If you take more Novostella than you should:
If you take more than the recommended dose, contact your doctor.
If you forget to take a dose of Novostella, keep taking your medicine without increasing your next dose.
Do not take a double dose to make up for a forgotten dose.
If you stop taking Novostella. If you have any further questions on the use of this medicine, consult your doctor or pharmacist.
Active substance
The active substance is prasterone. 1 tablet contains 10 mg of prasterone.
Indications
Novostella is indicated for the treatment of dehydroepiandrosterone (prasterone) deficiency in women with laboratory confirmed prasterone deficiency.

The supportive effects of prasterone have been demonstrated in the following cases:

menopause in women;
excessive skin pigmentation, reduction of skin thickness;
decrease in physical and mental fitness, especially in the elderly;
mood deterioration, depressive states, sleep disturbances, slow thinking and reduced patient mobility;
decrease in sexual activity;
obesity;
reduced tissue sensitivity to insulin;
circulatory system disorders;
weakening of immunity;
primary and secondary adrenal insufficiency.
Contraindications
Do not take Novostella:

if you are allergic to prasterone or any of the other ingredients of this medicine (listed in section 6); ·
if you suffer from severe liver and/or kidney failure;
if you suffer from breast, ovarian or other cancers;
if you are pregnant or breast-feeding;
in children;
in women with normal prasterone levels.
Warnings and safety precautions
Taking Novostella should be discussed with a doctor who will perform all the necessary tests and decide on the need to use this medicine. Patients under 40 years of age should not use this medicine. The patient should not change or increase the dose of the drug without consulting the doctor.
In case of use the drug at a dose higher than recommended for a long period of time, one may experience:
amenorrhea
sterility;
reduction of mammary glands;
excessive body hair;
masculinization (occurrence of male traits in women);
decrease in immunity;
excessive aggression and hyperactivity;
weight gain.
Treatment of menopause-related ailments in older women should commence after careful analysis with a doctor regarding the benefits and possible risks of using the medicine.
In case of long-term use of the drug in doses greater than 2 tablets (20 mg) per day, the concentration of prasterone in blood should be determined and medical examinations should be performed as often as necessary.
Novostella should not be used by athletes, as it belongs to the group of prohibited anabolic androgenic agents. Novostella should not be taken by women undergoing hormone replacement therapy (HRT).
Marketing Authorisation Holder
Aflofarm Farmacja Polska Spółka z o.o.
Information for the patient
Read the package leaflet for indications, contraindications, side effects, dosage as well as information on the use of this product, or consult your doctor or pharmacist before use. Misusing medicines may be dangerous to your life or health.
See how we care about quality
All our products are subject to strict safety requirements
We use rigorous quality control standards and procedures to ensure the highest level of safety for all our products.
See how we care about safety