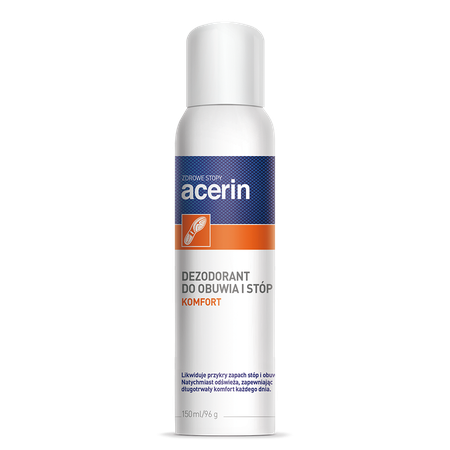 Acerin Komfort foot and shoe spray
Eliminates unpleasant odour and prevents sweaty feet. Has antibacterial and anti irritant properties, helping you maintain proper foot hygiene. Immediately refreshes and provides long-lasting protection from unpleasant odour. Also recommended for people frequently exposed to fungal contaminants.
Additional information
How to use: spray daily on dry feet and into the footwear.

How to store: Store in original pack below 25°C. Do not freeze or refrigerate.
Marketing Authorization Holder
Aflofarm Farmacja Polska Spółka z o.o.
Information for the consumer
Cosmetics are substances intended for external contact with the human body: skin, hair, lips, nails, external genitals, teeth and mucous membranes of the mouth, used solely or principally for their purity, care, protection, perfumery or beautification.
See how we care about quality
All our products are subject to strict safety requirements
We use rigorous quality control standards and procedures to ensure the highest level of safety for all our products.
See how we care about safety