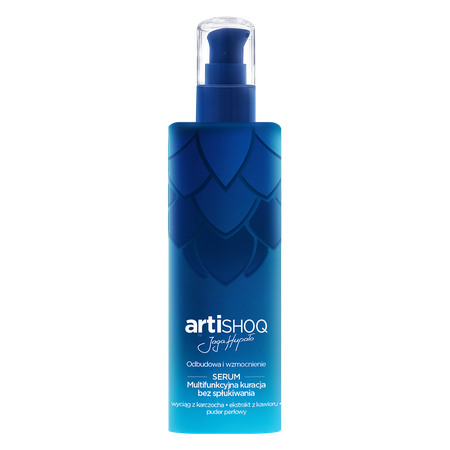 ARTISHOQ Multifunctional Leave-In Treatment
SERUMRebuilding and Strengthening

Multifunctional leave-in treatment, thanks to a combination of 10 active ingredients, moisturizes, regenerates and strengthens the hair from root to tip for a long time. Artichoke extract combined with rice proteins, aloe vera leaf juice, natural betaine and blueberry extract ensure effective moisturizing and smoothing of the hair structure, making it softer and easier to comb. Caviar extract protects the color while olive oil and vitamin E make the hair full of shine. Pearl powder and provitamin B5, thanks to their ability to penetrate hair, make it flexible and rebuild its structure. Thus, hair is smooth and less prone to frizz. An improvement in the appearance of hair is noticeable already after the first use.
Pharmaceutical form serum. 100 ml
Additional information
Directions for use: After shampooing, apply the conditioner through damp, towel-dried hair. Leave on without rinsing. Contraindications: Hypersensitivity to any of the product ingredients.
Marketing Authorization Holder
Aflofarm Farmacja Polska Spółka z o.o.
Information for the consumer
Cosmetics are substances intended for external contact with the human body: skin, hair, lips, nails, external genitals, teeth and mucous membranes of the mouth, used solely or principally for their purity, care, protection, perfumery or beautification.
See how we care about quality
All our products are subject to strict safety requirements
We use rigorous quality control standards and procedures to ensure the highest level of safety for all our products.
See how we care about safety