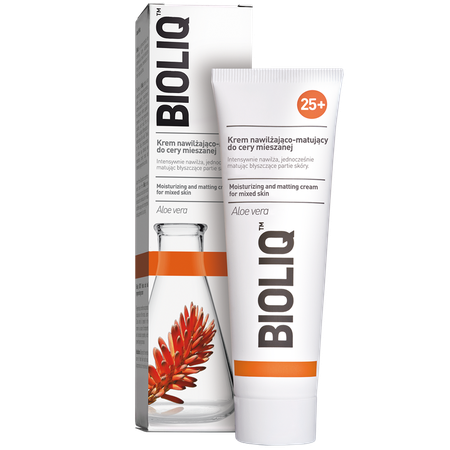 Bioliq 25+ Moisturizing and mattifying cream for combination skin
The cream intensely moisturizes, and mattifies shiny skin areas.

It regulates sebaceous glands, providing a visible mattifying effect. The aloe vera extract helps regenerate the epidermis and allows to maintain balance of oily areas of the "T" zone. The cream firms and smoothes out skin, and protects it against the harmful effect of free radicals. It also moisturizes and nourishes deep skin layers, and is therefore a perfect solution for combination skin.
Marketing Authorization Holder
Aflofarm Farmacja Polska Spółka z o.o.
Information for the consumer
Cosmetics are substances intended for external contact with the human body: skin, hair, lips, nails, external genitals, teeth and mucous membranes of the mouth, used solely or principally for their purity, care, protection, perfumery or beautification.
See how we care about quality
All our products are subject to strict safety requirements
We use rigorous quality control standards and procedures to ensure the highest level of safety for all our products.
See how we care about safety