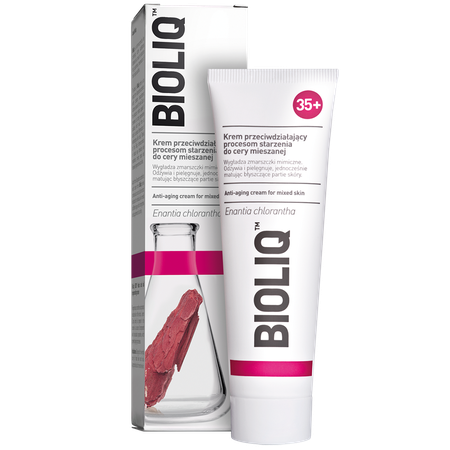 Bioliq 35+ Anti-aging cream for combination skin
The cream relaxes mimic wrinkles. It nourishes and cares for the skin, and mattifies the shiny areas of the skin.

It visibly mattifies the shiny areas of the skin, nourishes, regenerates, and improves the colour of combination skin. The extract of the African tree enantia chlorantha normalizes sebum production, makes pores less visible, and has an anti-bacterial effect. Natural terpenoids stimulate collagen synthesis, delaying the formation of wrinkles. The cream also makes mimic wrinkles less visible and ensures skin firmness, smoothness and elasticity.
Marketing Authorization Holder
Aflofarm Farmacja Polska Spółka z o.o.
Information for the consumer
Cosmetics are substances intended for external contact with the human body: skin, hair, lips, nails, external genitals, teeth and mucous membranes of the mouth, used solely or principally for their purity, care, protection, perfumery or beautification.
See how we care about quality
All our products are subject to strict safety requirements
We use rigorous quality control standards and procedures to ensure the highest level of safety for all our products.
See how we care about safety