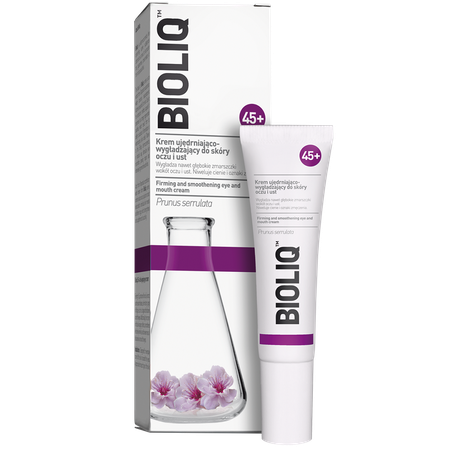 Bioliq 45+ firming and smoothing eye and mouth cream
Effectively smoothes out even deep-set wrinkles around the eyes and mouth. Eliminates dark circles and signs of fatigue.

Effectively smoothes out wrinkles around the eyes and gently tightens sensitive skin around the mouth for markedly improved contour. Contains a combination of cherry blossom (Prunus serrulata) extract rich in rejuvenating flavonoids and natural lipopetides which deeply nourish the skin, restoring its natural firmness and resilience. Contains hesperidin for intensively regenerated skin and visibly reduced puffiness and dark circles under eyes.
Pharmaceutical form cream. 15 ml
Composition
cherry blossom extract (Prunus serrulata)
Marketing Authorization Holder
Aflofarm Farmacja Polska Spółka z o.o.
Information for the consumer
Cosmetics are substances intended for external contact with the human body: skin, hair, lips, nails, external genitals, teeth and mucous membranes of the mouth, used solely or principally for their purity, care, protection, perfumery or beautification.
See how we care about quality
All our products are subject to strict safety requirements
We use rigorous quality control standards and procedures to ensure the highest level of safety for all our products.
See how we care about safety