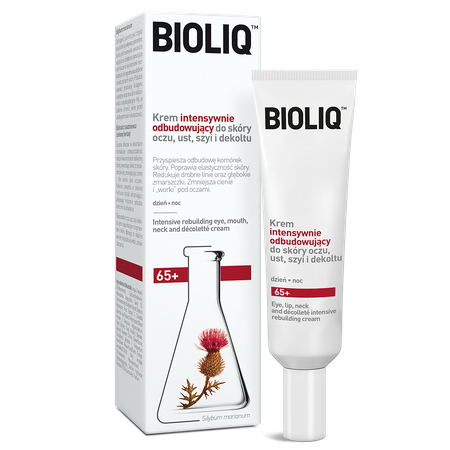 Bioliq 65+ Intensive rebuilding eye, mouth, neck and décoletté cream
Accelerates reconstruction of skin cells. Improves skin elasticity. Reduces fine lines and deep wrinkles. Reduces shadows and so-called "bags" under the eyes.
The cream intensively hydrates and nourishes the skin, while silymarin present in thistle (Silybum marianum) extract protects cell membranes and connective tissue proteins from loss of firmness. Improves elasticity of the skin, making it smoother and more firm. Reduces fine lines in the neck and décolleté as well as deep wrinkles around the mouth and eye area. Furthermore, plant extracts stimulate skin microcirculation and provide an anti-edema effect, thus reducing shadows and the so-called bags under the eyes.
Pharmaceutical form cream. 30 ml
Pharmaceutical form cream. 30 ml
Marketing Authorization Holder
Aflofarm Farmacja Polska Spółka z o.o.
Information for the consumer
Cosmetics are substances intended for external contact with the human body: skin, hair, lips, nails, external genitals, teeth and mucous membranes of the mouth, used solely or principally for their purity, care, protection, perfumery or beautification.
See how we care about quality
All our products are subject to strict safety requirements
We use rigorous quality control standards and procedures to ensure the highest level of safety for all our products.
See how we care about safety