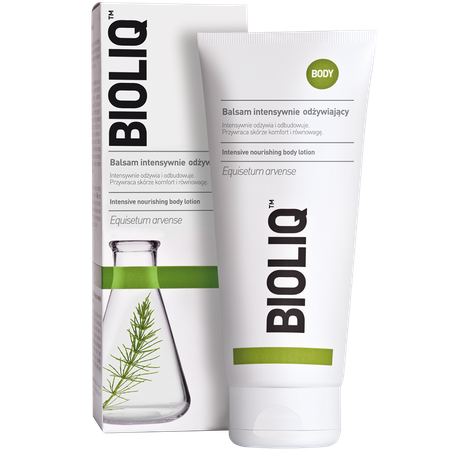 Bioliq Body Balsam intensywnie odżywiający
Intensively nourishes and rebuilds. Restores comfort and balance to the skin.

Intensively nourishes and provides care for the skin. Field horsetail (Equisetum arvense) herb extract improves collagen metabolism as well as indicates restoring and firming properties. The balm restores correct water-lipid balance, eliminates the feeling of roughness as well as soothes irritations, thus help the skin regain full comfort, vitality and a healthy look.
Pharmaceutical form cream. 180 ml
Composition
field horsetail (Equisetum arvense) herb extract
Marketing Authorization Holder
Aflofarm Farmacja Polska Spółka z o.o.
Information for the consumer
Cosmetics are substances intended for external contact with the human body: skin, hair, lips, nails, external genitals, teeth and mucous membranes of the mouth, used solely or principally for their purity, care, protection, perfumery or beautification.
See how we care about quality
All our products are subject to strict safety requirements
We use rigorous quality control standards and procedures to ensure the highest level of safety for all our products.
See how we care about safety