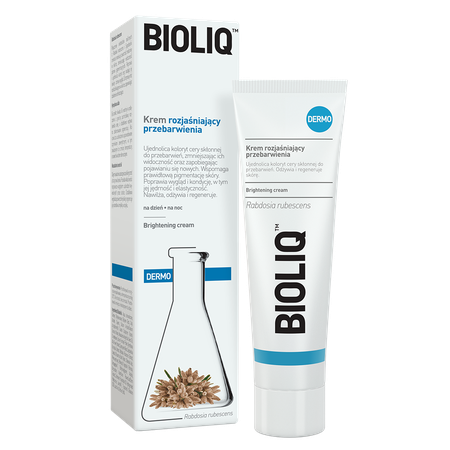 Bioliq Dermo brightening cream
Evens out the tone of skin prone to discoloration. Nourishes and regenerates skin.

Contains Rabdosia rubescens extract for less visible pigmentation spots. Brightens visible skin discolorations and prevents the appearance of new imperfections. Evens-out skin tone, ensuring radiant and healthy looking complexion. Additionally slows down aging. Regenerates, nourishes and hydrates skin.
Pharmaceutical form cream. 50 ml
Pharmaceutical form cream. 50 ml
Composition
Rabdosia rubescens extract
Marketing Authorization Holder
Aflofarm Farmacja Polska Spółka z o.o.
Information for the consumer
Cosmetics are substances intended for external contact with the human body: skin, hair, lips, nails, external genitals, teeth and mucous membranes of the mouth, used solely or principally for their purity, care, protection, perfumery or beautification.
See how we care about quality
All our products are subject to strict safety requirements
We use rigorous quality control standards and procedures to ensure the highest level of safety for all our products.
See how we care about safety