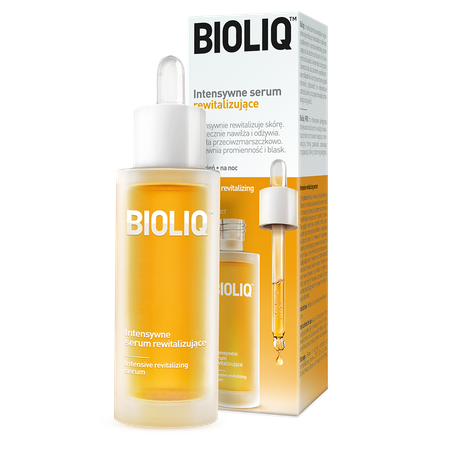 Bioliq Pro Intensive revitalizing serum
evens out wrinkles
improves skin firmness and elasticity
actively moisturizes and nourishes skin and makes it more bright
restores natural skin colour
The serum contains a highly prized component – the nutritious caviar (acipenser spp.) extract – which is a rich source of proteins, lipids, vitamins and minerals.
The active substances contained in the serum are obtained by means of extraction, which means that their unique properties are effectively preserved. The core component of the serum is the caviar (acipenser spp.) extract, which is a rich source of proteins, lipids, vitamins and minerals. Owing to this, the serum intensively stimulates skin revitalization: it actively regenerates, moisturizes and nourishes skin, which significantly improves its look and condition. Another active substance (isolated from Baikal skullcap root) improves skin firmness and elasticity, as well as inhibits enzymatic cell aging by increasing the number of cell divisions. The Baikal skullcap root extract extends the active life span of fibroblasts by about 10% and delays their aging process. The effect on the skin is that the fibroblast population becomes rejuvenated to a condition comparable to that of 10 years younger skin. By acting on the metabolism of preadipocytes and adipocytes, the serum also significantly reduces double chin, which visibly improves the skin contour. It also restores the natural skin colour, brightening up discolouration and small blemishes.
Pharmaceutical form cream. 30 ml
Marketing Authorization Holder
Aflofarm Farmacja Polska Spółka z o.o.
Information for the consumer
Cosmetics are substances intended for external contact with the human body: skin, hair, lips, nails, external genitals, teeth and mucous membranes of the mouth, used solely or principally for their purity, care, protection, perfumery or beautification.
See how we care about quality
All our products are subject to strict safety requirements
We use rigorous quality control standards and procedures to ensure the highest level of safety for all our products.
See how we care about safety