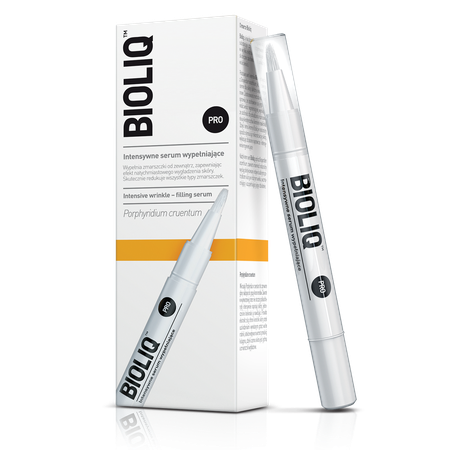 Bioliq Pro Intensive wrinkle-filling serum
Shortly after application, the serum allows to achieve the effect of smooth and silky skin. The high-molecular polymers immediately settle in the wrinkles, filling them effectively. A three-dimensional matrix, in combination with the algae extract, intensively flex skin, providing the effect of instant microlifting.

"Microlenses" contained in the serum, by changing the way light reflects off the skin allow to achieve the effect of an optical smoothing and improving of skin texture, eliminating dark circles and wrinkle lines. It provides an instant optical effect of an improved skin look. "Microlenses" are transparent and therefore the product does not change the natural skin phenotype and is suitable for every skin type.

Regular use of the serum allows to reduce the visibility of all types of wrinkles and to smooth out the surface of the skin. A unique tetrapeptide included in the serum stimulates the synthesis of collagen, hyaluronic acid and fibronectin in the skin cells. Contribution to the cellular regeneration processes not only prevents signs of aging, but also reduces the existing ones.

An innovative applicator with a brush allows to precisely apply the serum on all types of wrinkles. A small amount of the serum is enough to fill crow's feet, forehead furrows or wrinkles around the mouth. Thanks to precise topical application, the serum is incredibly efficient. It is a perfect base under make-up and also extends its wear.
Pharmaceutical form cream. 2 ml
Pharmaceutical form cream. 2 ml
Pharmaceutical form serum. 2 ml
Marketing Authorization Holder
Aflofarm Farmacja Polska Spółka z o.o.
Information for the consumer
Cosmetics are substances intended for external contact with the human body: skin, hair, lips, nails, external genitals, teeth and mucous membranes of the mouth, used solely or principally for their purity, care, protection, perfumery or beautification.
See how we care about quality
All our products are subject to strict safety requirements
We use rigorous quality control standards and procedures to ensure the highest level of safety for all our products.
See how we care about safety