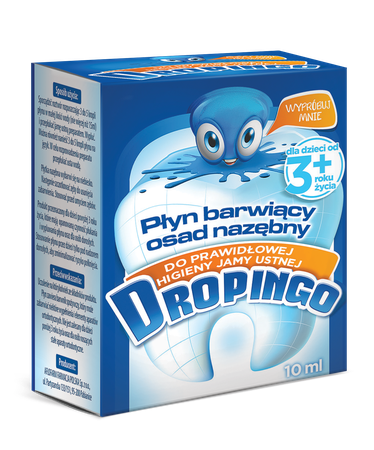 DROPINGO
Helps you and your child see if the teeth have been brushed thoroughly enough. Has pleasant fruity flavour. Dropingo tints the plaque blue, exposing areas which need more thorough brushing. The blue colour disappears once the plaque has been removed by proper brushing.

Dropingo has been fortified with xylitol (25%) which protects teeth against plaque and cavities, supports remineralization of enamel and helps remove plaque. For children over 3 years of age who have been trained to use a mouthwash as well as adults intending to improve their tooth brushing skills. Does not contain sugar.
Dropingo lets you see the areas which need more brushing and motivates you to keep good oral hygiene.
Additional information
Dropingo must be used under adult supervision to minimise the risk of swallowing. The product is not intended for persons wearing dental braces. Do not use Dropingo if you are hypersensitive (allergic) to any of the ingredients in the product.
Composition
Aqua, Xylitol, Sodium Benzoate/ Potassium Sorbate, CI 42090, Parfum, Citric Acid.
Marketing Authorization Holder
Aflofarm Farmacja Polska Spółka z o.o.
Information for the consumer
Cosmetics are substances intended for external contact with the human body: skin, hair, lips, nails, external genitals, teeth and mucous membranes of the mouth, used solely or principally for their purity, care, protection, perfumery or beautification.
See how we care about quality
All our products are subject to strict safety requirements
We use rigorous quality control standards and procedures to ensure the highest level of safety for all our products.
See how we care about safety