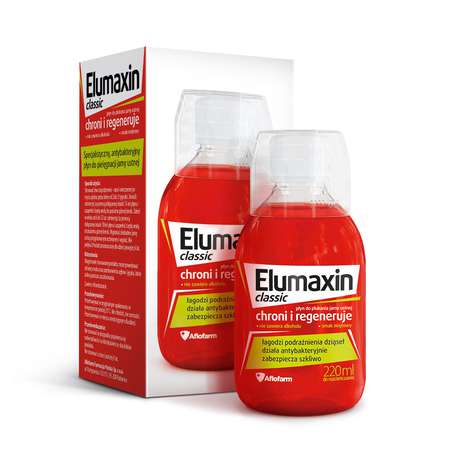 Elumaxin Classic
Elumaxin Classic liquid, thanks to its active ingredients, supports caries protection and maintains gums in good condition. It protects the enamel, helps reduce plaque build-up and accelerates the regeneration of irritated gums. It also provides a feeling of freshness and cleanliness for a long time. The product is also intended for people wearing braces, dental prostheses and implants.
Additional information
Antibacterial mouth care liquid is recommended: - to maintain proper oral hygiene, especially before and after dental procedures - in case of irritation and redness of gums, especially for people wearing braces and dentures
Marketing Authorization Holder
Aflofarm Farmacja Polska Spółka z o.o.
Information for the consumer
Cosmetics are substances intended for external contact with the human body: skin, hair, lips, nails, external genitals, teeth and mucous membranes of the mouth, used solely or principally for their purity, care, protection, perfumery or beautification.
See how we care about quality
All our products are subject to strict safety requirements
We use rigorous quality control standards and procedures to ensure the highest level of safety for all our products.
See how we care about safety