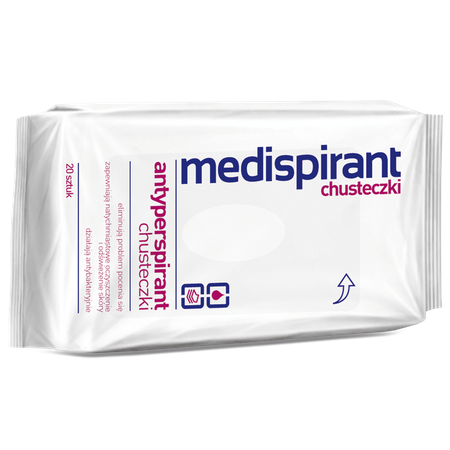 Medispirant wipes
Medispirant wipes are an excellent solution for those with symptoms of excessive sweating in various parts of the body (face, neck, décolleté, hands, etc.) regardless of their age and skin type. Medispirant wipes guarantee instant skin cleansing and refreshing. Antiperspirant substances block sweat secretion and eliminate the problem of sweating for a long time. The antibacterial barrier that the wipes create on the skin prevents any unpleasant odour, and condition and nourish your skin. The subtle protective and conditioning film makes skin soft without the "oily" look. Your skin is soothed and refreshed.
Pharmaceutical form wipes. 20 pcs
Composition
aluminium chlorohydrate, silver complex, panthenol
Marketing Authorization Holder
Aflofarm Farmacja Polska Spółka z o.o.
Information for the consumer
Cosmetics are substances intended for external contact with the human body: skin, hair, lips, nails, external genitals, teeth and mucous membranes of the mouth, used solely or principally for their purity, care, protection, perfumery or beautification.
See how we care about quality
All our products are subject to strict safety requirements
We use rigorous quality control standards and procedures to ensure the highest level of safety for all our products.
See how we care about safety