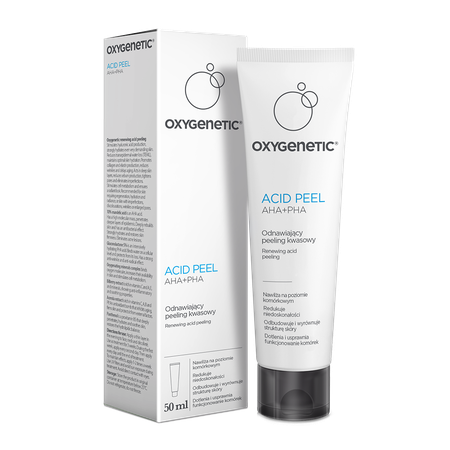 OXYGENETIC ACID PEEL AHA + PHA Renewing acid peeling
Potent formula to stimulate hyaluronic acid synthesis and provide hydration to very demanding complexion.

Reduces Transepidermal Water Loss - TEWL - to lock in moisture and prevent dehydration. Promotes collagen and elastin production to smooth wrinkles and delay ageing processes. This peel works in deep layers of the skin, inhibits the activity of sebaceous glands by regulating waxy, oily sebum from the inside, shrinks pores and expells impurities and pollutants from the skin for noticeably improved and resurfaced skin texture. Stimulates skin metabolites for the amazing youthful glow. You may count on AHA+PHA combination to fight dullness and acne and restore an even and radiant tone to your complexion.

Hydrates, Smoothes & Resurfaces

Firms and plumps your skin at cellular level. Smoothes deep wrinkles.
Lightens pigmentation and hydrates. Oxygenates for overall better absorption of nutrients.
Marketing Authorization Holder
Aflofarm Farmacja Polska Spółka z o.o.
Information for the consumer
Cosmetics are substances intended for external contact with the human body: skin, hair, lips, nails, external genitals, teeth and mucous membranes of the mouth, used solely or principally for their purity, care, protection, perfumery or beautification.
See how we care about quality
All our products are subject to strict safety requirements
We use rigorous quality control standards and procedures to ensure the highest level of safety for all our products.
See how we care about safety