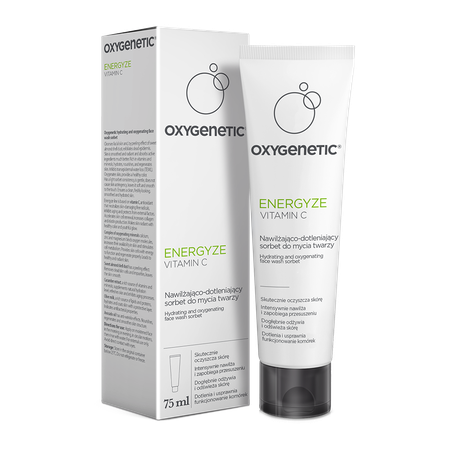 Oxygenetic hydrating and oxygenating face wash sorbet
This sorbet-scrub cleanser will gently exfoliate your skin with almond shell powder for smooth, radiant effect and for better absorption of actives. Rich in vitamins and minerals deeply hydrates and locks in moisture to prevent Transepidermal Water Loss (TEWL) for nourished and beautiful skin. With this cleanser your complexion will look revived and healthier. The sorbet formula is super gentle for the skin, removes unpleasant tightness for soft and smooth effect. Use this sorbet cleanser if you want to enjoy deeply cleansed, smoothed and hydrated skin.

Cleansing & Oxygen Boost

Deeply cleanses.
Hydrates and works to lock in moisture to prevent skin dryness.
Deeply nourishes and conditions to awake the skin.
Oxygenates to give skin cells boost to allow them do what they do best.
Marketing Authorization Holder
Aflofarm Farmacja Polska Spółka z o.o.
Information for the consumer
Cosmetics are substances intended for external contact with the human body: skin, hair, lips, nails, external genitals, teeth and mucous membranes of the mouth, used solely or principally for their purity, care, protection, perfumery or beautification.
See how we care about quality
All our products are subject to strict safety requirements
We use rigorous quality control standards and procedures to ensure the highest level of safety for all our products.
See how we care about safety