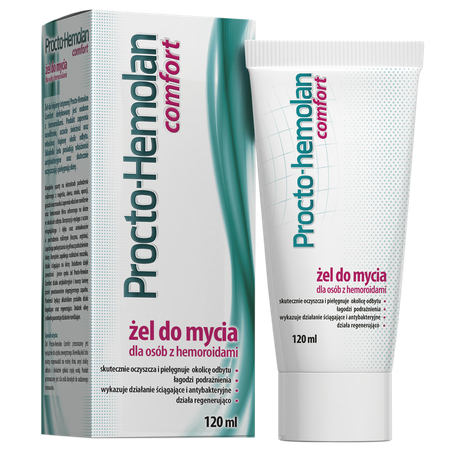 Procto-Hemolan comfort
Cleansing gel for people with haemorrhoids.

Procto-Hemolan Comfort effectively cleanses and nourishes perianal area. It has antibacterial, astringent and regenerating properties. A unique combination of witch hazel, oak extracts and amino acids of vegetable origin (leucine, arginine) keeps the pH of your skin within healthy limits and prevents irritation. Procto-Hemolan comfort provides your skin with proper hydration and the combination of plant extracts ensures a protective film on top of the highly sensitive perianal area.
Additional information
How to use:
For external use only. Apply a small amount of gel to moistened hands, wash the perianal area and rinse thoroughly with warm water. The product is intended for everyday use in adults.

Do not use Procto-Hemolan comfort:
If you are allergic to any of the ingredients in the product. Stop using the product if you experience irritation or discomfort such as burning, itching or redness in the application area. You can start using the product again once the symptoms have resolved.

How to store:
Keep in original container below 25°C. Do not refrigerate or freeze. Keep out of reach of children.
Composition
Aqua, Sodium Laureth Sulfate, Zinc Coceth Sulfate, Glycerin, Cocamidopropyl Betaine, Sodium Chloride, Sodium lactate, Capryl / Capramidopropyl Betaine, Olive Oil PEG-8 Esters, Panthenol, Glycerin/ Hamamelis Virginiana Bark/Leaf Extract / Quercus Infectoria Gall Extract/Arginine / Leucine, PEG-4 Rapeseedamide, Propylene Glycol / Polysorbate 80 / Calendula Officinalis Flower Extract / Aloe Barbadensis Leaf Juice / Mel Extract / Opuntia Ficus-Indica Extract / Pyrus Communis Fruit Extract / Passiflora Edulis Fruit Extract, Benzyl Alcohol / Methylchloroisothiazolinone/ Methylisothiazolinone.
Marketing Authorization Holder
Aflofarm Farmacja Polska Spółka z o.o.
Information for the consumer
Cosmetics are substances intended for external contact with the human body: skin, hair, lips, nails, external genitals, teeth and mucous membranes of the mouth, used solely or principally for their purity, care, protection, perfumery or beautification.
See how we care about quality
All our products are subject to strict safety requirements
We use rigorous quality control standards and procedures to ensure the highest level of safety for all our products.
See how we care about safety