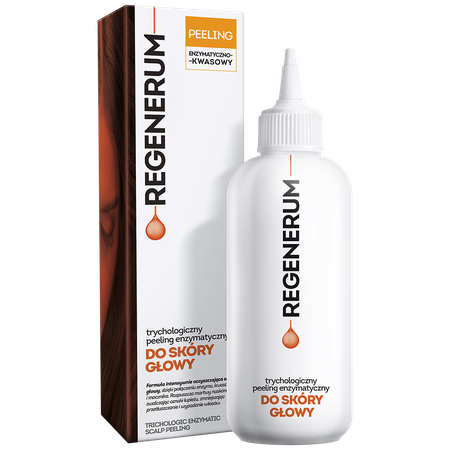 Regenerum Trichology Line Enzymatic Scalp Peeling
The intensive cleansing formula of Regenerum peeling is based on an enzymatic-acid combination, i.e. the enzyme bromelain, acids and urea. It breaks down dead epidermal cells thereby combating dandruff, reducing greasiness and preventing hair loss.

Regenerum Trichology Line Enzymatic Scalp Peeling does not contain particles, thoroughly cleanses the scalp with enzyme and acids thereby combating dandruff, reducing greasiness or hair loss. It allows to instantly remove callous epidermis and other impurities thus leaving follicular outlets unclogged and hair bulbs nourished. This, in turn, prevents hair loss and help hair remain lifted at the roots, smooth and shiny. The peeling regulates sebaceous gland activity, reducing oil overproduction and greasy hair. The enzyme bromelain breaks down dead skin cells removing impurities from the scalp. Salicylic acid exfoliates the stratum corneum preventing dandruff. Lactic acid intensifies purifying effect and effectively nourishes the scalp. 35% urea removes the excess of stratum corneum and unclogs follicular outlets thereby enhancing absorption of hair care cosmetics and stimulating hair growth. Fruit vinegar regulates sebaceous gland activity and restores the scalp to its natural pH balance. Acting on the hair bulbs, it leaves hair smoother and stronger along its entire length. Saw palmetto extract prevents and treats hair loss and protects against possible skin irritation.
Pharmaceutical form gel. 110 ml
Composition
enzyme bromelain
removes the excess of stratum corneum, giving the effect of a thoroughly cleansed scalp

salicylic acid
regulates cell turnover and prevents dandruff

lactic acid
effectively nourishes and restores scalp health

urea
purifies hair follicles ensures better absorption of active ingredients

fruit vinegars
restore scalp to its natural pH balance and reduce oil overproduction

saw palmetto extract
inhibits hair loss/fall and prevents skin irritation
Marketing Authorization Holder
Aflofarm Farmacja Polska Spółka z o.o.
Information for the consumer
Cosmetics are substances intended for external contact with the human body: skin, hair, lips, nails, external genitals, teeth and mucous membranes of the mouth, used solely or principally for their purity, care, protection, perfumery or beautification.
See how we care about quality
All our products are subject to strict safety requirements
We use rigorous quality control standards and procedures to ensure the highest level of safety for all our products.
See how we care about safety