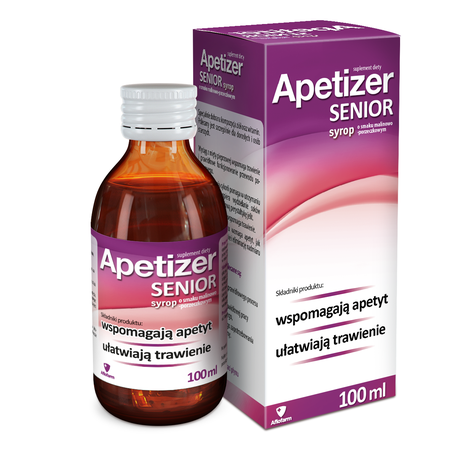 Apetizer Senior, raspberry and currant flavour
Apetizer Senior syrup is a specially formulated combination of vitamins and herbal extracts for adults and seniors.

The product contains Fennel fruit extract which stimulates appetite and supports digestion. The other ingredients are: Peppermint extract which helps maintain healthy gastrointestinal functions and Chicory root extract which stimulates production of digestive juices and helps maintain normal bowel movements.

Apetizer Senior has pleasant taste and ingredients which support gastrointestinal functions.
Pharmaceutical form Liquid. 100 ml
Category Dietary suplement
Marketing Authorisation Holder
Aflofarm Farmacja Polska Spółka z o.o.
Information for the consumer
Food supplements should not be used as substitutes for a varied and well-balanced diet. A varied and balanced diet and healthy lifestyle are essential for good health.
See how we care about quality
All our products are subject to strict safety requirements
We use rigorous quality control standards and procedures to ensure the highest level of safety for all our products.
See how we care about safety