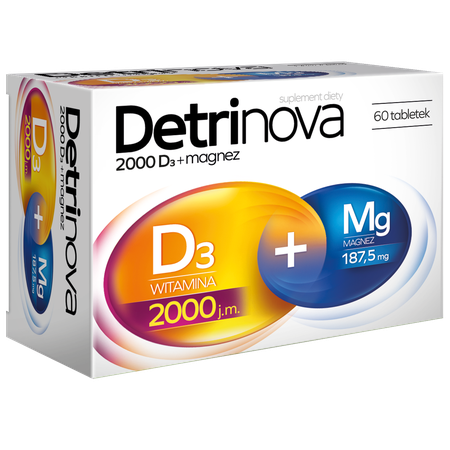 Detrinova 2000 D3 + magnesium
Detrinova 2000 D3 + magnesium is a unique combination of 2000 IU of vitamin D and the highest dose of magnesium carbonate contained in a single tablet1. One package allows for up to 2 months of supplementation.

1. Detrinova has the highest dose of magnesium carbonate contained in a single tablet among oral magnesium preparations available in tablet dosage form - data based on PEX Pharmasequence, Magnesium Preparations, revised as of Sept.2021.
Category Dietary suplement
Additional information
In addition to immune system support, vitamin D contains nutrients needed to keep bones and muscles healthy and enhances adequate calcium and phosphorus absorption.

Magnesium and vitamin B6 aid the nervous system, contribute to normal energy-yielding metabolism and reduce tiredness and fatigue. Additionally, magnesium intakes benefit healthy muscles, while vitamin B6 affects homocysteine metabolism and contributes to hormone regulation.

Doses: Adults under 75 years of age: 1 tablet daily. Food supplement cannot substitute healthy eating. A balanced diet and healthy lifestyle are important for your health.

How to store: store in the original packaging below 25°C in a dry place protected from light. Keep out of the sight and reach of children.

Contraindications and precautions: Do not take this supplement if you have a history of allergic reactions to any of the ingredients. Speak to your doctor before taking the supplement if you are pregnant or breastfeeding.
Composition
Ingredients: 1 tablet contains: 2000 IU of vitamin D (1000% NRV*), 187.5 mg of magnesium (50% NRV*) and 1.4 mg of vitamin B6 (100% NRV*)
* (NRV) nutrient reference value
Marketing Authorisation Holder
Aflofarm Farmacja Polska Spółka z o.o.
Information for the consumer
Food supplements should not be used as substitutes for a varied and well-balanced diet. A varied and balanced diet and healthy lifestyle are essential for good health.
See how we care about quality
All our products are subject to strict safety requirements
We use rigorous quality control standards and procedures to ensure the highest level of safety for all our products.
See how we care about safety