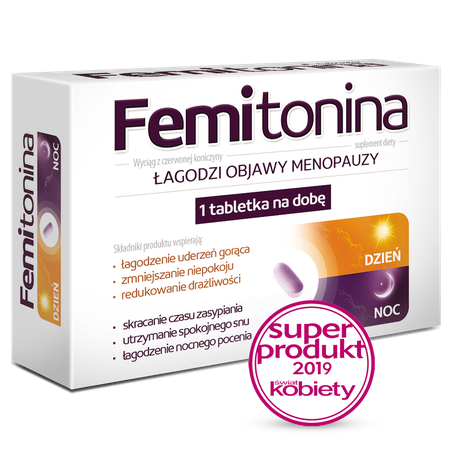 Femitonina
Menopausal symptoms can be associated with hormonal imbalance, including estrogen and melatonin levels. Therefore, Femitonina food supplement contains melatonin and high concentration of isoflavones from soybean and red clover extracts. The ingredients of Femitonina support your body during the daytime and at night. Melatonin helps shorten the time it takes to fall asleep while hops extract helps you maintain restful sleep. During daytime, red clover extract supports your body to deal with menopausal symptoms such as hot flushes, sweating, anxiety and irritability. Femitonina – your day and night support in menopause.
Category Dietary suplement
Marketing Authorisation Holder
Aflofarm Farmacja Polska Spółka z o.o.
Information for the consumer
Food supplements should not be used as substitutes for a varied and well-balanced diet. A varied and balanced diet and healthy lifestyle are essential for good health.
See how we care about quality
All our products are subject to strict safety requirements
We use rigorous quality control standards and procedures to ensure the highest level of safety for all our products.
See how we care about safety