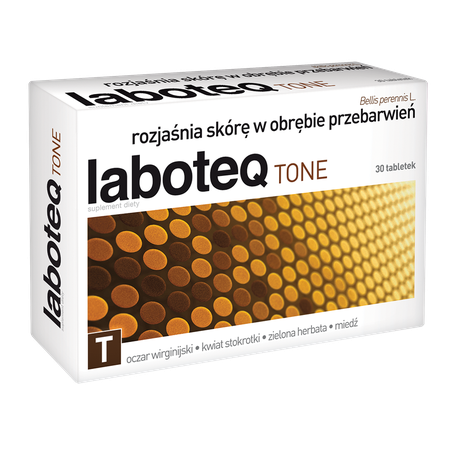 Laboteq Tone
Laboteq Tone is a food supplement for women with face skin discolorations (uneven skin pigmentation). The ingredients of Laboteq TONE work from within the skin to ensure even, uniform and natural looking skin tone.* Common daisy extract (Bellis Perennis L.) brightens discolorations while green tea extract (Camellia Sinensis L.) prevents new pigment-related imperfections. Witch-hazel extract (Hamamelis Virginiana L.) protects the skin from the harmful effects of the sun* Laboteq TONE contains CRH™ formula (Continuous Hyperpigmentation Reduction) – a combination of three plant extracts and copper which supports natural and healthy skin pigmentation.
Pharmaceutical form tablets. 30 tab.
Category Dietary suplement
Composition
Hamamelis virginiana extract, bellis perennis extract, camellia sinensis extract, niacin, vitamin A, biotin, vitamin E, vitamin B6, copper, magnesium, zinc, iodine, iron, selenium, manganese
Marketing Authorisation Holder
Aflofarm Farmacja Polska Spółka z o.o.
Information for the consumer
Food supplements should not be used as substitutes for a varied and well-balanced diet. A varied and balanced diet and healthy lifestyle are essential for good health.
See how we care about quality
All our products are subject to strict safety requirements
We use rigorous quality control standards and procedures to ensure the highest level of safety for all our products.
See how we care about safety