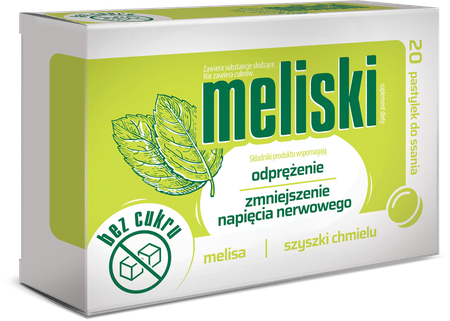 Meliski
This food supplement is a blend of natural lemon balm (Melissa officinalis) and hop (Humulus lupulus) extracts. Lemon balm extract has a mood-enhancing benefit, helps relieve tension and reduce anxiety. Hop extract is known to treat insomnia or other sleep disorders. Sugar-free. Contains sweeteners. This product must contain no more than 0.5 of sugar per 100 g.
Category Dietary suplement
Additional information
Lemon balm extract (Melissa officinalis) – has a calming effect, helps relieve stress or tension and reduce anxiety, ease insomnia and other sleep disorders.
Hop extract (Humulus lupulus) – for healthy and sound sleep.

Dosage: Adults: take 3 lozenges daily. Do not exceed the recommended daily allowance. Overdose on the supplement may cause diarrhoea as a side effect. Food supplements should not be used a substitute (replacement) of a varied diet. A varied diet and a healthy lifestyle are important to your health.

Store in original packaging at 5÷25°C, in a dry place. Protect from light. Do not freeze. Keep out of reach of children.
Composition
Composition: 1 lozenge contains 53 mg of lemon balm extract and 25 mg of hop extract.
Contraindications
DO NOT USE if any allergic reactions occur. After use refrain from driving or operating machines. Not recommended while taking other sedatives. Talk to your doctor or a pharmacist prior to use while taking antidepressants. Not suitable for children under 12. Check with your doctor if pregnant or breastfeeding.
Marketing Authorisation Holder
Aflofarm Farmacja Polska Spółka z o.o.
Information for the consumer
Food supplements should not be used as substitutes for a varied and well-balanced diet. A varied and balanced diet and healthy lifestyle are essential for good health.
See how we care about quality
All our products are subject to strict safety requirements
We use rigorous quality control standards and procedures to ensure the highest level of safety for all our products.
See how we care about safety