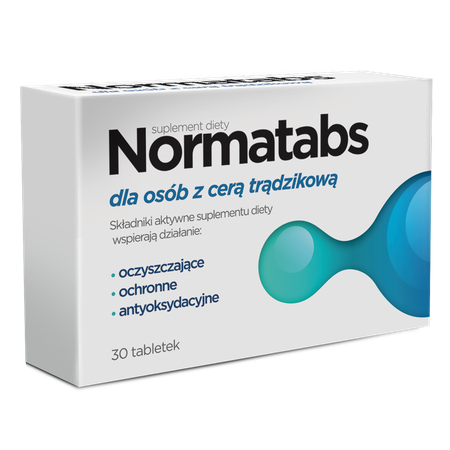 Normatabs
Normatabs is a unique combination of components showing comprehensive action which contributes to the improvement of the condition of acne skin. The product's components – lactoferrin, herb extracts, vitamins and minerals – show strengthening, purifying, protective and antioxidative effects. Viola tricolor extract and the product's other components of plant origin improve skin condition and help maintain its beautiful and healthy look. Selenium and zinc help protect skin from oxidative stress and the harmful effects of free radicals.
Category Dietary suplement
Additional information
A normal function and a healthy look of your skin depend on proper nutrition and on provision of all necessary nutrients, vitamins, micro and macroelements. This is why it is worth to use Normatabs, designed to supplement your diet with components necessary for the improvement of the condition of acne skin.
Composition
Zinc, vitamin B6, lactoferrin, lycopene, l-cysteine, selenium, collagen protein hydrolysate, coenzyme Q10, viola tricolor extract, common dandelion extract, verbena herb extract, green tea extract, vitamin A, niacin (vitamin PP), folic acid, vitamin E, vitamin C
Marketing Authorisation Holder
Aflofarm Farmacja Polska Spółka z o.o.
Information for the consumer
Food supplements should not be used as substitutes for a varied and well-balanced diet. A varied and balanced diet and healthy lifestyle are essential for good health.
See how we care about quality
All our products are subject to strict safety requirements
We use rigorous quality control standards and procedures to ensure the highest level of safety for all our products.
See how we care about safety