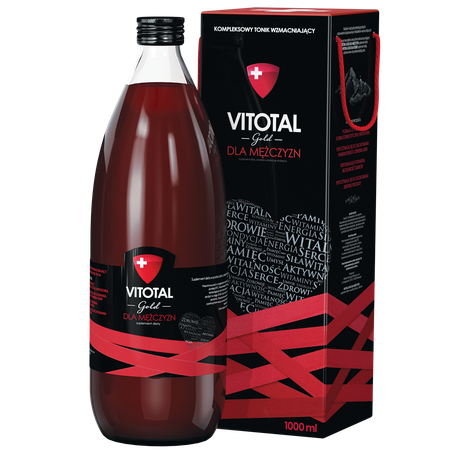 Vitotal GOLD for Men
The food supplement Vitotal Gold for men has been developed with men in mind whose goal is to maintain good physical and mental fitness for as long as possible. Men who want to retain their strength, energy and vitality. The Vitotal Gold for men tonic contains vitamins and plant extracts selected to best meet the needs of the male body. The product components: help maintain good physical and mental fitness, help maintain normal blood pressure, help maintain normal joint mobility, and help maintain a healthy prostate. Red wine extract (from wine made from Vitis vinifera L. grapes) and red grape skin extract promote the body's natural defence against cell-damaging free radicals. They preserve the integrity of the venous system and contribute to normal blood pressure. They also promote good blood flow in the lower limbs in tired and heavy legs. Ginseng extract has a beneficial effect on the body, both in intense mental and physical activity and exhaustion, and in lowered powers of concentration, memorizing and association. It helps maintain cognitive functions and good memory. It promotes normal circulation, thereby improving brain work and response to stimuli. It helps maintain optimal performance and vitality. It helps maintain normal blood glucose level and natural sexual activity. Ginger rhizome extract helps maintain fitness and normal joint mobility. It helps maintain the normal function of the vascular system, thereby promoting normal heart action. It supports digestion, contributing to normal intestinal function. Nettle leaf extract helps maintain a healthy prostate, normal heart action, and normal function of the blood circulation system. It supports the locomotor system by helping maintain normal joint flexibility. It supports vitality and the body's immune system. Thiamine promotes normal heart function. Riboflavin promotes normal vision. Vitamin B6 helps maintain normal mental functions. Niacin helps maintain the normal function of the nervous system. Folic acid (a folate) contributes to the reduction of the feeling of fatigue and weariness. Pantothenic acid helps maintain normal mental fitness. Biotin helps maintain normal metabolism of macroelement nutrients. Vitamin B12 helps maintain the normal function of the immune system. Vitamin C promotes the normal production of collagen, necessary for the normal function of the bones, cartilage, teeth, gums, skin, and blood vessels.
Pharmaceutical form Liquid. 1000 ml
Category Dietary suplement
Composition
Red wine extract, Grape skin extract, Ginseng root extract, Ginger rhizome extract, Nettle leaf extract, Blackcurrant concentrate, Thiamine (vitamin B1), Riboflavin (vitamin B2), Vitamin B6, Niacin, Folic acid, Pantothenic acid, Biotin, Vitamin B12, Vitamin C
Marketing Authorisation Holder
Aflofarm Farmacja Polska Spółka z o.o.
Information for the consumer
Food supplements should not be used as substitutes for a varied and well-balanced diet. A varied and balanced diet and healthy lifestyle are essential for good health.
See how we care about quality
All our products are subject to strict safety requirements
We use rigorous quality control standards and procedures to ensure the highest level of safety for all our products.
See how we care about safety