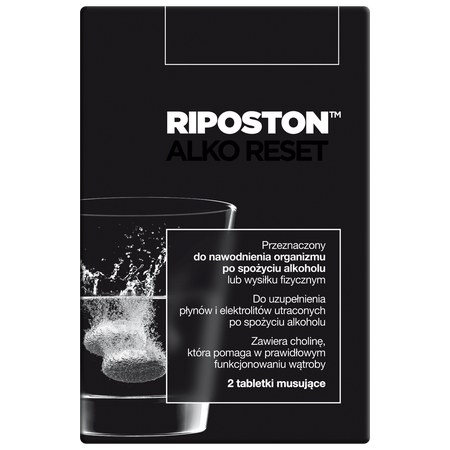 Riposton
Riposton is available as effervescent tablets for oral solution to hydrate your body after alcohol consumption or intense physical exercise. Riposton is recommended for adults to replenish fluids and minerals lost from the body due to alcohol consumption. The product is additionally fortified with choline to support the liver function.
Category General food consumptionstuff
Active substance
Glucose, sodium, potassium, choline
Marketing Authorization Holder
Aflofarm Farmacja Polska Spółka z o.o.
Informacja dla konsumenta
Przed użyciem zapoznaj się z ulotką, która zawiera wskazania, przeciwwskazania, dane dotyczące działań niepożądanych i dawkowanie oraz informacje dotyczące stosowania produktu leczniczego, bądź skonsultuj się z lekarzem lub farmaceutą, gdyż każdy lek niewłaściwie stosowany zagraża Twojemu życiu lub zdrowiu.
See how we care about quality
All our products are subject to strict safety requirements
We use rigorous quality control standards and procedures to ensure the highest level of safety for all our products.
See how we care about safety