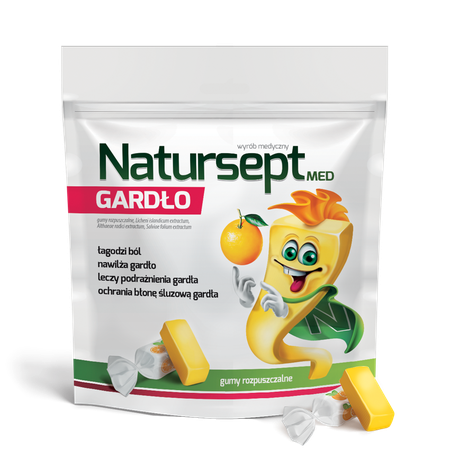 Natursept MED throat chews
With Natursept MED throat chews form a protective coating on the oral lining to:
• treat throat irritation
• relieve pain
• lubricate throat
• protect the lining of the throat

The ingredients of Natur-sept MED throat chews provide a protective film on the lining of the throat and oral cavity to relieve irritation (burning, dryness, pain and difficult swallowing) associated with inflammation. The film protects the oral lining against adverse external influences such as dry and/or cold air, helping the mucous membrane restore its natural balance and protective functions. Natur-sept MED throat chews also lubricate and refresh the oral mucosa.
Additional information
How to use.
Children over 3 years of age: 1 chews up to 3 times daily. Chew and suck on the product until completely dissolved in the mouth. Make sure the child does not eat or drink within 30 minutes of taking the product. Talk to a doctor if the child does not feel better after 5 days of use.
The product should be used under adult supervision.

Special warnings and precautions.
Do not use the product if your child is allergic to any of the ingredients, soy or peanuts.

Net weight: 58.5 g (9 chews x 6.5 g)
Composition
Ingredients: glucose syrup, sugar, partly hydrogenated vegetable fats (palm oil, shea kernel oil, soybean oil, rapeseed oil, coconut oil), sorbitol, dextrin, orange juice concentrate, citric acid, Iceland moss extract, natural orange flavour, L-ascorbic acid, marshmallow root extract, dried chokeberry concentrate, sage leaf extract, soy lecithin, salt, paprika extract, agar.
Manufacturer
Aflofarm Farmacja Polska Spółka z o.o.
Information for the user
A medical device is intended for treatment of medical conditions or relief of their symptoms where the essential intended effect is achieved by means other than the use of pharmacological, immunological or metabolic agents.
See how we care about quality
All our products are subject to strict safety requirements
We use rigorous quality control standards and procedures to ensure the highest level of safety for all our products.
See how we care about safety