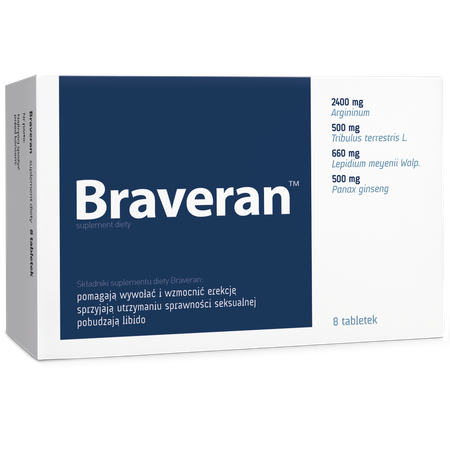 Braveran
Braveran is a food supplement specially designed and formulated for men. The ingredients of Braveran help you achieve and maintain an erection. They also support sexual performance and improve libido. Braveran is recommended for men who wish to improve the quality and intensity of their sex life.
Pharmaceutical form tablets. 8 tab.
Category Dietary suplement
Additional information
Goat's-head (tribulus terrestris) boosts sex drive and intensifies sexual experience.

Maca helps maintain natural sexual activity and energy. Improves libido.

Ginseng helps achieve and strengthen an erection.

Saffron stimulates libido and improves erection. Helps increase sperm volume.

Selenium contributes to normal spermatogenesis.

Zinc helps maintain healthy testosterone levels in the blood.

Vitamin E helps protect cells from oxidative stress.
Composition
(4 tablets):

L-arginine - 2400 mg

Maca root extract (equivalent to 660 mg of root) 165 mg

Tribulus terrestris fruit extract (equivalent to 500 mg fruit) 50 mg

Ginseng root extract (equivalent to 500 mg of root) 71.44 mg

Crocus sativus extract (saffron) 40 mg

Zinc 15 mg (150%)*

Selenium 90 μg (164%)*

Vitamin E 24 mg equivalent of alpha-tocopherol (200%)*

*% Nutrient Reference Values
Marketing Authorisation Holder
Aflofarm Farmacja Polska Spółka z o.o.
Information for the consumer
Food supplements should not be used as substitutes for a varied and well-balanced diet. A varied and balanced diet and healthy lifestyle are essential for good health.
See how we care about quality
All our products are subject to strict safety requirements
We use rigorous quality control standards and procedures to ensure the highest level of safety for all our products.
See how we care about safety